Hacking
Hacking (Short Description):
The Chestnuts Riding School has fantastic hacking, clients hack up our Private Bridleway straight onto the South Downs Way public bridlepaths (taking less than 10 minutes), from the Chattri Field, there is approximately 15 square miles of hacking without road works. The majority of our hacks are 60, 90 and 120 minutes in duration, and are affordably priced in comparison with our competitors. For safety reasons, you must be proficient at Walk, Trot and Canter before trying to book a hack, a mandatory Assessment Lesson is a requirement for all new clients coming to our centre. All hacks will be accompanied by an experienced escort.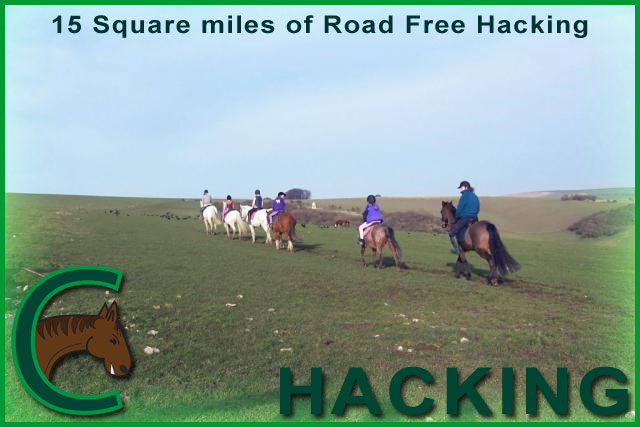 Hacking (Long Description):
The Chestnuts Riding School has some of the best hacking in Sussex, and the best in Brighton. We have a private bridlepath which takes clients on a direct route from our yard to the public bridleways of the South Downs Way. It takes lesson than 10 minutes to reach the top, with stunning views and excellent routes to take, hacks out are always very enjoyable.
Some of the sights to see while riding out are The Chattri (Indian Memorial), The Windmills, Ditchling Beacon. (photos soon)
Time is always a factor, and the routes will vary depending on the duration booked. Like the rest of our activities safety and wellbeing of both the horse and rider come first, during the summer months, the hacks are reduced to a slower pace and the distance you can travel is a little less. The hard ground can easily cause a horse to go lame, we ask that you respect that decision, and not to question or ask the escorts to go faster.
Hacking is Weather dependent, if it's Snowing or Terrential Rain, maybe even Galeforce winds, then the hack will most likely be postponed (credit/transfer will be given if this happens to another date that you can make, subject to availability).
We offer significant discounts on all our riding!. Hacks are discounted to clients who wish to maintain a weekly regular booking. This is called Regular Riders Club, to qualify you must maintain a weekly continuous booking through the year, paid monthly in advance (4 or 5 weeks depending on the month). This also has benefits, once you maintain a Primary Regular Riders Club booking, all additional riding is heavily discounted, our Club+ discount rate applies to any further riding you do during that month.
All our usual Terms and Conditions apply for Hacking and Trekking. The Regular Riders Club has further Rules governing it, these will be provided when joining the club.
Prices / Costs of Hacking & Trekking on South Downs National Park

Hacking Prices ADULT:
Standard Hacks (1-4 customers):

60 Minutes: £40.00
90 Minutes: £50.00
120 Minutes: £60.00
Hacking Prices CHILDREN:
Standard Hacks (1-4 customers):

60 Minutes: £35.00
90 Minutes: £45.00
120 Minutes: £55.00